Once in a Lifetime
Tweet
"Miss, senyum kasi lebih..dagu rendah.."
"Bos, senyum tidak cukup..pipi mau dekat sama bini.."
"Ok…1 2 3 senyum..satu kali lagi..ini saya delete.."
"kasi saya senyuman paling cantik"
"Miss, peluk mister..kaki kasi angkat baru nampak seksi "
"Mister, senyum besar sikit.."
Those words were 'fav' words from the bridal photographers. Whoaaaaa..when I recall it back, it was really tiring. I surrender! But it was a nice experience tho. I cant help giggling when I think of it again.
. It a once in a lifetime experience! In the future no more photo shoot like this. Of course! You only married for ONCE in a life unless you want to have family photo session (but I think it will be more relaxing than pre-wed photo shoot).
Below is the wrap up of our pre-wed photo shoot.
10.00am
Arrived at bridal studio and took our kupi-kupi to ease the nervousness (LOL..pandai saya nervous)
10.15am
The bridal girl called us and asked me to straight away to their studio for makeup and hairdo. My Mr. still got sometime to chill..while waiting for my makeup done.
11.20am
My makeup done. Our first outfit was RED (gosh sa masi nervous + excited).
11.40am
First outfit shoot done and I changed to second outfit. And change to second outfit, third, forth, fifth and sixth…until 7th outfit for the outdoor photo shoot.

4.30 pm
Heading to outdoor photo shoot  location.
Arrived at outdoor photo shoot location…I think I was blushed..Punya ramai orang ni tempat…All heads was towards us (macam tingu artis ja). I try my best to stay calm but dalam hati menggaru-garu. Plus last Saturday was rainy day (nasib baik rintik2 saja). Ending up shooting in the rain..I really want to see the outcome for the outdoor photography session which we only can see by tomorrow.
Frankly to say that on our 3rd outfit I started to feels tired already plus sleepy. But for the sake of the nice photos terpaksa juga sa kuatkan semangat. And luckily I ask my lil bro to come with us and he did snap some pictures from my Mr.'s Galaxy Note but I think I keep the photos first except for the below photos.
Just click read the rest of this entry..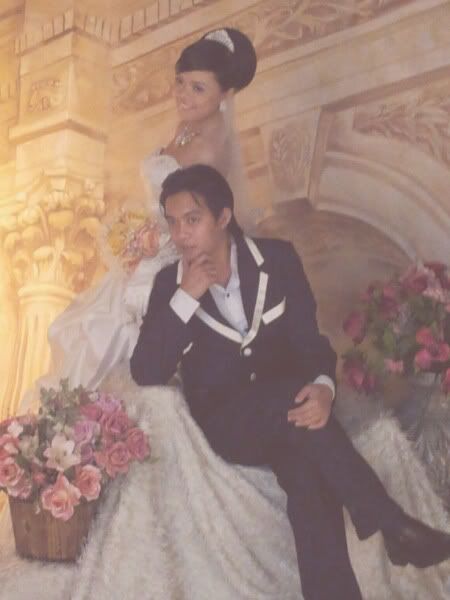 37 Responses to Once in a Lifetime