Nonproductive Weekend
Tweet
I know some of you are having a nice weekend right. My weekend ruined while me and my Mr. having a jalan-jalan at Centre Point. Buli-buli saya pening kepala ni time lepak d Starbucks. Jalan2 pun tiada mood. Then decided to went home after my Mr. got his Nicole's working pants. Earlier, I was planning to buy black pencil skirts but yeah as I said. I got "emergency". Even on the way home I was asleep and perhaps my Mr. heard me snoring. LOL.
Last Saturday we went for the wedding bands hunting and grab it while the gold price still affordable (but RM190/gram is not cheap you know). Gold's price nowadays increasing so fast. We were not bought our wedding bands at Poh Kong nor Tomei nor Habib but at the normal goldsmith shop. Even though we bought it at normal goldsmith shop the price for 1 pair is few more bucks to 1K. Gosh. Apa lagi kalau beli di jewelry shop yang ada BRAND kan. For me the wedding bands is only a bands. It is just a symbol for couples. But if you are so lucky to have an extra money, anytime you can ask the goldsmith to custom made it for you.
Back to the headache story, the headache stops when I reached home. ? ?. Why suddenly stops? Haizz..
I did not have mood to do the chores and just laying at the sofa and watching HOW I MET YOUR MOTHER? Ahahah Barney is so damn funny. Any of you watching this? He is hilarious..
Even though I got unproductive weekend I manage to do something for myself. Can you guess? It is a DIY! DIY Stretchy Flower Headband and I wore it to the office today. Some more it is pink!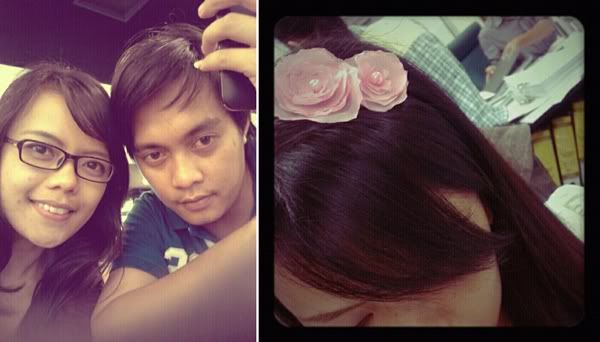 Left : At Starbuck..ignore the pale face
Right : The headband.
Have a nice Monday everyone!
22 Responses to Nonproductive Weekend