Working already
Tweet
I know some of you still having a CNY holiday right? As for me here, I'm the first staff arrived today at 7.25am. And today may be only a non-Chinese (except boss) working. This year we don't have an additional leave or compulsory leave
. But never mind. And this morning the road is so clear. Punya siok driving bilang fiance. We had our breakfast at Damai Phase 4 and I'm so shocked that the price for our breakfast almost doubles. It is not that I do not know that price would be increase during festive season (especially CNY) but I forget about it. Apalah..Macam mau kasi balik tu mee hoon  sebab harga mahal..But, it is so rude to be like that bah kan. I have a plan that my lunch today would be a bun because of the increasing price. Plus, I know that most of our fave spot for lunch still having their holiday.
I did not back to my hometown this CNY holiday. What I do is staying at home watching One Piece and Supernatural Season 8. Makan tidur saja. Jalan2 KK pun tidak ni..sebab I know most of the kedai still closed for CNY. So, no choice right? Staying at home and doing the chores. That all. And yeah I manage to spent some time to do some exercise on nail art. Ha ha this is a beginner attempt. I still need to learn the technique from Chegu Carol. And I know Edith also doing the good progress on nail art . I'm envy..He he he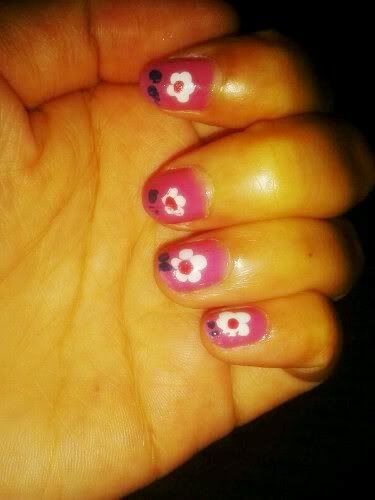 [sorry for the not so neat attempt]
Okey guys, for those who starts working today..Happy Working and have a great week everyone.
30 Responses to Working already